2023 International Smart Display and Integrated System Exhibition(Or ISLE Exhibition),as the weathervane of the Audio-visual communication and technology integration industry,also as the main platform for the latest technology announcement and demonstration , academic and business communication" within the industry. Will be holding during 7th -9th April in Shenzhen World Exhibition & Convention Center (Shenzhen World) hall No.9-12.
This ISLE exhibition is expected to attract more than 1000 enterprises, either online or offline, the exhibition themes covering LED screen display, display technology and accessories, audio and video system integration, stage audiovisual, digital multimedia, audio and video integration and applications.
As a high-end outdoor LED display manufacturer, Zhejiang WGO Photoelectric Technology CO., LTD, will carry the newly released "LED panel display series" product to participate the gathering of the industry. WGO will demonstrate the fresh technique and result in the field of outdoor display. We are looking forward of your presence. Our exhibition stand is at F01, Hall No.9.
During this exhibition, WGO will also participate in multiple industry communicate conference and forum activities organized by the organizers and industry associations. At that time, WGO will gather with industry academicians, experts, and outstanding entrepreneurs to deeply explore the current situation, future trends, the new products and technologies of the LED display industry.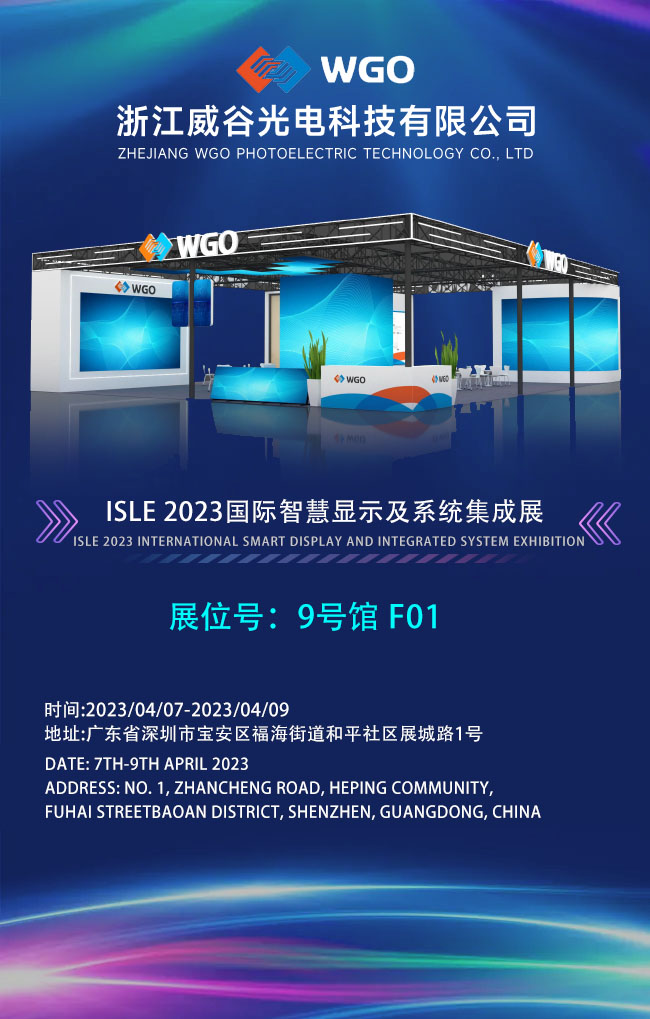 Information of WGO Exhibition stand:
Date: 7th -9th April 2023
Address: Shenzhen World Exhibition & Convention Center (Shenzhen World)
Exhibition stand: F01,Hall No.9
Waiting for your presence.